About WEB Members
Become a Windsor WEB Member for various advantages.
Please see our "Windsor Holiday Club" Paid Membership information at the bottom of the page.
Members Benefits
There are 3 WEB Membership stages based on hotel use.
*Please note that the benefits are subject to change without notice.
We are currently revising our Gold and Platinum Member services. We hope to see you back at the launch of our new services.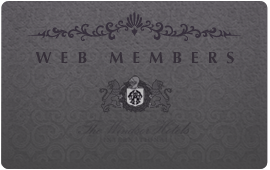 General WEB Members (general benefits)
Available

All Members

Points

100 yen = 1 point (1 point = 1 yen in return)

*Points are valid for two years from the granted date.
*Points will be granted for the total amount booked on the website.
*Points may be used for reservations online.

About Member Advantages

Access to our Online Newsletter (upon request) / Easy online booking and view history feature. / Online packages offered only to General WEB members and instant hotel information.
Windsor
HOLIDAY CLUBWEB Special Paid Membership
Windsor Holiday Club
The special paid membership service is now available for people who want to enjoy the resort life such as the nature, food culture and a variety of outdoor activities at The Windsor Hotel TOYA.
Please get your WEB membership ID and password in advance. They are necessary for Windsor Holiday Club registration. If you do not have member ID and password, please get it at "Member Registration" page.
Windsor Holiday Club
Special contents such as paid membership special discount rates are available.

(Please sign in.)

Notification emails will be sent one month before membership expiration.

Membership renewal

*If membership is not renewed, the account will automatically reset to normal WEB Membership.
About Member Advantages
10% off of various package plans.

Applicable for stays over 2 nights.

*There are some plans that are not applicable

The points are tripled.

3 points are added for each 100 JPY spent while it a point for each 100 JPY normally.

*There are some exceptional period.

Activity tickets and service Present are included.

Visit Bloom SPA Toya duaring your stay to get 10% discount for spa menu and 20% discount for package manu.
One free drink ticket per person at our café and bar.
Photoshoot service during the stay.
Hotel original gift (for first time visitors)

Pre-recieval service for books, CDs and DVDs.

If there are books, CDs and DVDs you would like to enjoy, you can send them to the hotel in advance and the hotel will set them up at your rooms.

*CD player and DVD player can be provided at no additional cost.

PR Magazine

"The Windsor", PR magazine filled with latest hotel information, topics on seasons / nature and esseys, will be sent to you 4 times a year (Issued in February, May, August and November).
About "The Windsor", PR magazine.
Summary of Windsor Holiday Club
Membership fee

10,000 JPY (tax included)

Expiration Date

1 year from activation.

*For Example: If you get membership on 2011/12/1, it is good through 2012/11/30.
*There will be notification emails sent to you at 3 months prior and 1 month prior to expiration date.

Terms and conditions

The Holiday Club member must be staying at the room when awards are used.
Please provide an identifiation card such as driver's lisence at check in.

Cancel Policy

1 day prior 20%
Checkin day 80%
No show 100%

*Cancel charge will be applied to your points
*Cancel policies differ depending on Stay Plans